Looking For a Custom Ring Binder With Full Colour Print?
---
Print Your Custom Logo on Our Custom PVC Ring Binder!
We Offer a Wide Range of Customization and Branding Options So You Never Have to Deal With a Boring Ring Binder Again.
Branding Options:
Screen Printing on PVC Ringbinder:
We Offer Our Customers the Option of Choosing Screen Printing for Their PVC Ring Binders. This Cost-effective Printing Option Allows You to Have a Fantastic Looking Custom PVC Ring Binder at an Affordable Price. Your Artwork or Logo Designs Can Be Printed in Numerous Colors Including Full Colour Print. We Are Also Able to Print on Any Part of the Ring Binder Such as the Front, Spine and/or Back Cover of the Binder as Well as the Inside. Our Various Design Options Make It Possible for You to Design the Ringbinder You've Always Wanted!
UV Print / Direct To Vinyl Print on Binder:
UV Printing Allows You to Place Your Business Logo or Artwork Directly Onto the Surface of the Binder. Your Artwork Is Placed Over White Vinyl Which Is a Base Color. What Makes UV Printing Different From Screen Printing Is That Instead of Liquid Ink, UV Printing Uses a Dual-state Substance Which Remains in Liquid Form Until It Is Exposed to UV Light. When the Light Is Applied to the Ink During Printing, It Cures and Dries Under the Lights to Give You a Crisp, Sharp Look. In Addition to Being a More Superior Type of Print Compared to Screen Printing, It Is Also More Eco-friendly. UV Printing Uses a Photo-mechanical Process to Cure the Ink Versus Drying Through Evaporation and Therefore Evaporation Is Minimized Which Leads to Less Harmful Chemicals Being Released Into the Air.
Debossing:
Debossing Is When an Image (Logo, Text, Etc.) Is Stamped Into the Ring Binder, Creating a Depressed Effect. The Image Below Should Give You an Idea of What a Debossed Effect May Look Like.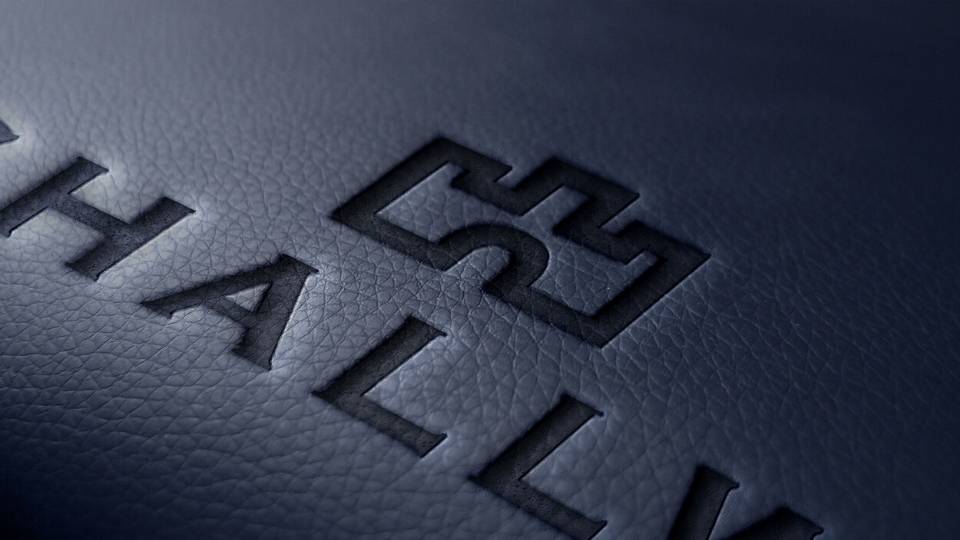 Encapsulation:
Encapsulation Is a Process Which Adds a Coating Over Your Print to Ensure That the Print Stays Crisp and Sharp & Protects the Ring Binder From Damage Caused Due to Rain, Spills Etc. We Know How Often Ring Binders Are Used for Storage, Promotional Purposes, Filing Etc. And Are Sometimes Susceptible to Wear and Tear or Exposed to Rain and Spills. That Is Why We Offer Encapsulation as an Add-on Which Will Allow You to Have a Full Colour Ring Binder That Not Only Looks Great, but Is Also Capable of Handling Daily Use Without Breaking Down! This Option Is the Perfect Way to Ensure Your Binder Always Remains Sharp and Your Documents Are Always Protected.
Ring Binder Colour Options:
We Don't Limit You to Just a Few Colours! Be Creative in Your Designs and Get the Binder You've Always Wanted Because Your Artwork Design Can Be Printed in 1, 2, 3 or More Colors Including Full Color! If You Have Any Concerns With Regards to the Colours in Your Designs or How Your Binder Will Look With Your Artwork, Get in Touch With Us and One of Our Designers Will Get in Touch With You to Assist You.
Sizes:
We Offer Fully Custom Made Ring Binders. You Have the Freedom to Specify Your Preferred Size Whether That Is an A4, A5 or Something Custom. No Matter What Your Requirements Are, We Have the Capability to Do It.
Custom Mechanism:
You Are Able to Specify Exactly How You Want Your Custom Made Ring Binder. Whether It Is a 2 Ring Binder, 3 Ring Binder or a D Ring or O Ring Binder, We Can Do It. Get in Touch With Us Today and Let Us Design the Ring Binder You've Always Wanted!
Best Prices in South Africa!
That's Right. Not Only Can We Cater to Any Design Requirements, We Are Also Able to Offer Our Custom Made Ring Binders at the Best Prices in the Country!